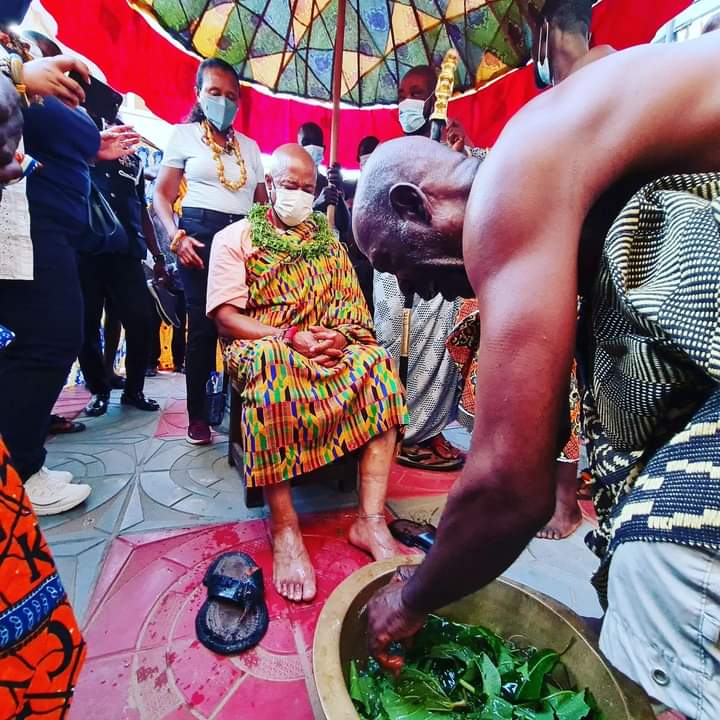 The New York City Mayor-elect Eric Adams has made a historic visit to Akwamufie in Ghana.
The Mayor who is expected to assume office beginning January 1, 2022, is in Ghana to pay respect to his ancestors who sacrificed through the slave trade.
The Akwamufie traditional council headed by the Paramount Chief Odeneho Kwafo Akoto II announced on Sunday, December 5, 2021, that "Eric Adams, 2nd ever black man who will serve as Mayor of New York City beginning 1st Jan. 2022, in a historic homecoming visit to Ghana, underwent traditional spiritual cleansing rites performed by the elders of the Bogyawe Ahenfi, Akwamufie.
The statement was added Accompanied by Ambassador Johanna Odonkor Svanikier, Founder, President, and CEO of the Heritage and Cultural Society of Africa Foundation, HACSA-USA as well as his partner Tracey Collins, the Mayor-elect was attended by carefully selected palace elders in line with COVID guidelines. He was also given a tour of the Akwamu Museum. The Akwamuhene Odeneho Kwafo Akoto III and Akwamuhemea, Nana Afrakoma II, named him Barima Yaw Asamani, and offered their blessings to him for a successful tenure" the statement said.
Meanwhile, some media houses in America have criticized the trip of the mayor to Ghana in West Africa amidst fears of the Omnicron virus which has led to a travel ban on South Africa.
However the Mayor-elect, Adams says the trip carries great importance to him:
"I made a promise to myself that I would visit Ghana following the 400-year anniversary of slavery in America and the election, to show how far we have come and remembered how far we still must go. This election to me was, among other things, about resetting a negative narrative so that we can have a more just and united future. I will continue to be in contact with the transition team on our progress toward January 1, and with the mayor on pressing matters including Omicron while I'm in Ghana". He said.